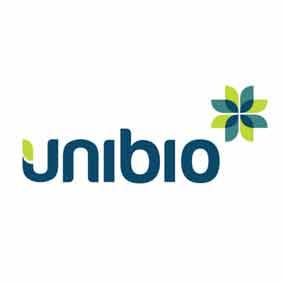 Public Email
unibio@unibio.dk
Public phone number
45 63 10 40 40
Company info
Unibio is a pioneering venture in the biotechnology sector with core competences within fermentation technologies. Unibio International was incorporated in 2014, and its 100% owned subsidiary company was incorporated in 2001.

The global headquarter is located at 2 Royal College Street, Camden, London NW1 0NH, and the administrative headquarter is located at Langebjerg 1, DK-4000 Roskilde.

The company owns the rights to a unique fermentation technology – the U-Loop® technology – which has been developed in cooperation with DTU and is the result of more than 30 years of research and development activities.

The concept underlying Unibio's U-Loop® technology is simple: natural gas (methane) can be converted into a highly concentrated protein product, Uniprotein®, which can be used as a direct supplement in feed for animals. It can substitute fishmeal, a traditional feed component, and an increasingly scarce resource.

The ambition of Unibio is to become the world market leader within protein production based on methanotrophic bacteria, partly by own production and partly by licensing the production technology to international investors wishing to establish large-scale production plants of Uniprotein® using the surplus gas from oil production. Unibio is also committed to the continuous development of the U-Loop® technology to improve productivity.